Gluten & Dairy Free Empire Cookies✨ made by Laura from The Zillenial Cook!
These sweet little sandwich cookies are sure to brighten your day! They are buttery and delicious, and you would never know they are dairy and gluten free.

The cookies are sandwiches with some raspberry jam, and topped with a lemony icing and maraschino cherry.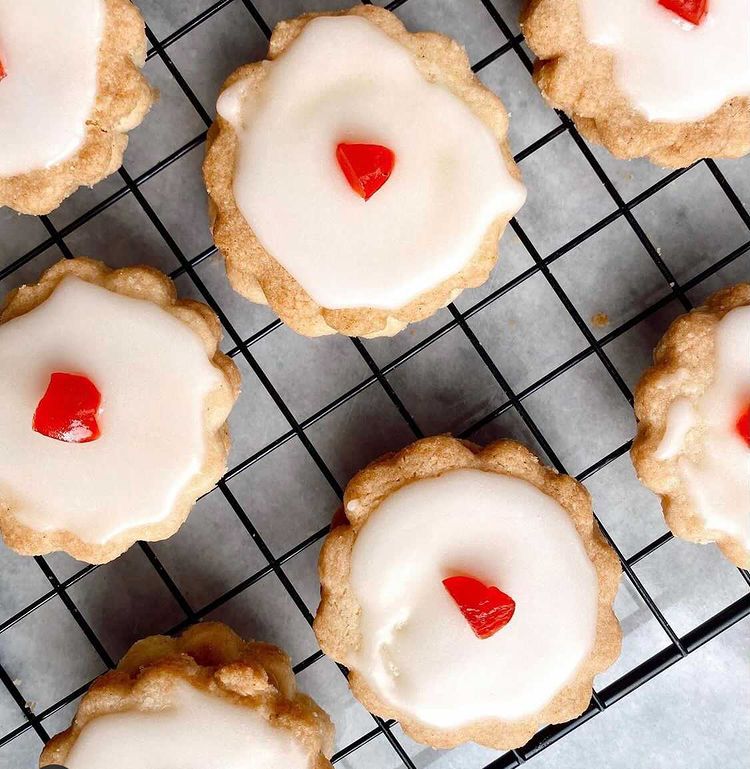 This cookie recipe uses our Gluten Free Bakers Blend Complete Flour Replacement!
Ingredients:
2/3 cup, dairy free butter, softened
1/4 cup sugar
1 tsp vanilla
1 1/2 cups, gluten free flour
1 tsp baking powder
1/4 tsp baking soda
1/4 tsp, salt
1 cup, icing sugar
3 tsp lemon juice
1 tsp water
1/4 cup, raspberry jam
4-5 maraschino cherries, quartered

Make Cookie Dough:
Cream together the butter and sugar until fluffy
Add the vanilla and beat to combine
Now add to the butter mixture your sifted gluten free flour, baking powder, soda and salt, shaking them over the bowl
Using a spoon, combine the flour and butter to create your cookie dough
Shape into a ball, and cover the bowl with plastic wrap and chill in fridge for 30 mins
Baking the Cookie Dough:
Preheat oven to 350
Remove your dough from the fridge and turn onto a sheet of parchment paper
Using another sheet on top of the dough ball, roll the dough until it is about 1/8 inch thick
Using a round or scalloped edge cookie cutter, cut out the shapes of your cookies
Using a metal lifter/spatula, carefully transfer to a prepared cookie sheet. The dough will be delicate
Make sure you bake an even amount so you are able to make pairs for your sandwiches
Bake in the oven for 8-10 minutes, until they have light golden edges
Set cookies aside to cool.
Make Icing:
While cookies are cooling, prepare your icing
Whisk together icing sugar, lemon juice and water. Set aside
Make your Cookie Sandwiches
Take one cooled cookie, spread with 1 tsp of raspberry jam
Sandwich another cooled cookie on top
Top the sandwich with about 1 tsp of icing, and 1 quarter of maraschino cherry
Let the icing set for 15 minutes before eating!
Now make a cup of your favourite hot brew, sit on your cherished reading chair with your new book, and enjoy your Gluten Free cookies. You deserve it!!

Have a fabulous Gluten Free day!