Carrot Cake Cupcakes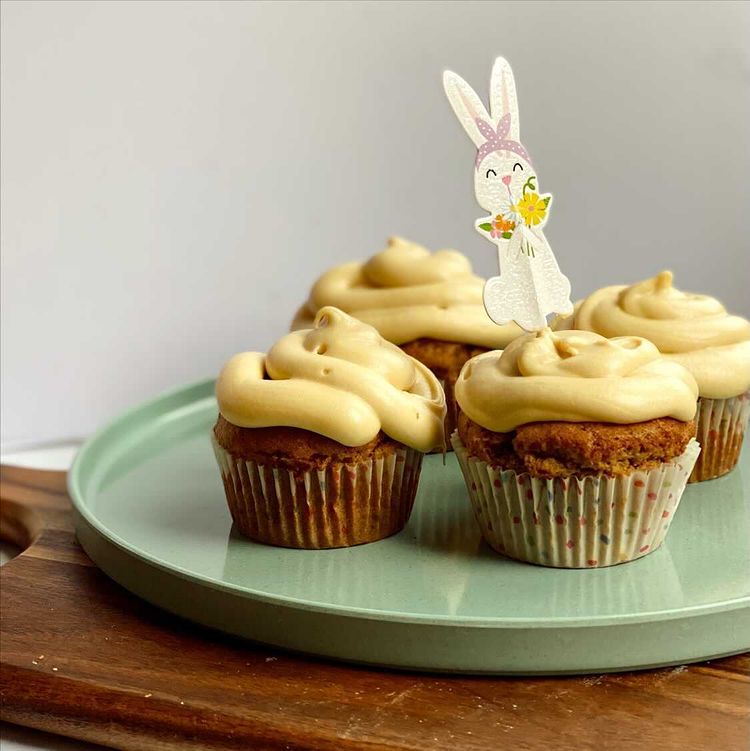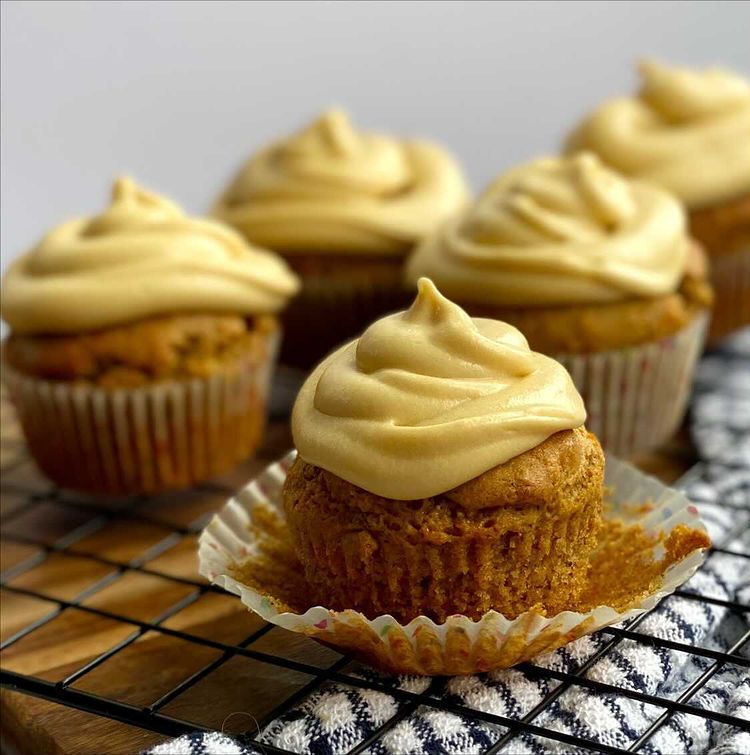 Cupcake:
3/4 cup flour
1 tbsp tapioca starch
1/2 tsp baking powder
1/4 tsp baking soda
1/2 tsp, cinnamon
1/4 tsp, ginger
1/4 tsp, nutmeg
1/4 tsp, ground cloves
1/4 cup neutral oil (i.e. canola oil)
1/2 cup brown sugar (light or dark)
1 egg
1 tsp vanilla
2 1/2 tbsp sour cream
2 1/2 tbsp oat milk
1/2 cup shredded carrot, patted dry
Brown Sugar Buttercream
4 ounces, non-dairy cream cheese
2 tbsp, vegan butter
1/3 cup, brown sugar
2 1/2 cups, powdered sugar
1/4 tsp, vanilla
1/2 tsp, molasses
DIRECTIONS:
Prepare a 6 cup, cupcake tin with cupcake liners. Preheat oven to 350
Whisk together flour, starch, baking powder, baking soda, and spices. Set aside.
To the bowl of a stand mixer, cream together sugar, egg, vanilla and sour cream. Once combined, add oil beat again. Mix in milk.
With the stand mixer on medium speed, gradually add your flour mixture 1/4 cup at a time until just combined.
Once combined, add your shredded carrot, and fold in with a spatula.
Spoon batter into your prepared cupcake tin.
Bake at 350 for 18-20 minutes, until golden brown and a toothpick inserted comes out clean.
Let cool in tin for five minutes before transferring to a rack to cool. Top with buttercream once cool to a touch.
Buttercream: To the bowl of a stand mixer add brown sugar, butter and cream cheese. Beat together on medium speed for 5 minutes, until creamy and smooth.
Let sit for 3-5 minutes to give time for the brown sugar flavour to set in.
After letting it sit, add your powdered sugar, beat to combine. Add your vanilla and molasses. Continue to beat.
If you want a stiffer buttercream, add more powdered sugar until you reach the consistency you desire.
It will be a bit smoother and thinner than a typical buttercream.
Pipe onto your cooled cupcakes.